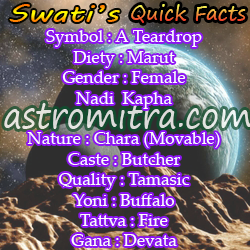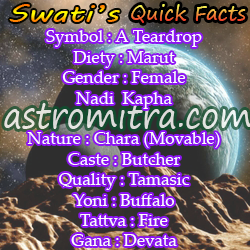 Swati Nakshatra (also known as Swaathi in Tamil and Chothi in Malayalam) is spread from 06.40 to 20.00 degrees in Libra sign. Marut is deity of this star while its Dasha ruler is Rahu – The mysterious planet in astrology. Swati is the 15th among the 27 Nakshatras
Swati Nakshatra Personality Traits
Since your birth star is ruled by Rahu who is considered most mysterious planet in astrology has potential to react and give results in very strange manner. And this house you look like. It's very hard to know what exactly is going on in your mind. You have a wavering and fickle mind. You are outgoing and over courageous.
You may get quiet or hidden support from foreigners. Your efforts may not yield the desired results. If you ever get into a legal entanglement, you will eventually win. You can be unscrupulous in your dealings, especially financial. You use your mind in a very practical way and will accumulate wealth with your discriminative powers. You have a business talent, using relationships with others to build wealth. You may get an income from the ruling powers.
Compatible, Incompatible Nakshatras with Swati
Your Nakshatra is incompatible with people born in Krittika, Rohini, Ashlesha, Magha, Chitra 1st and 2nd quarters, Vishakha 4th quarter, Jyeshta and Revati. Rest of the birth stars are compatible with you and you can marry them, enter into love relationship or do a business partnership with them. Check out your manually prepared Matchmaking Analyis
Swati Nakshatra Marriage, Love & Family
The one thing that you need to understand before entering into a relationship is that relationship is all about balance. Neither being too fast, nor too slow is going to help you. You have to keep the pace with your partner. This is the only mantra that can ensure a lasting relationship for you. You will be on good terms with friends, especially foreigners one, parents and siblings. However, at time your views might be totally different than them. You have also have an opportunity to get your personalized and accurate Marriage Prospects and Love Prospects. Go and Check Out what destiny has in store for you.
Suitable Career or Profession for Swati Nakshatra
Sources of income might include inheritance, restaurants or food emporiums, financial institutions, jewelry or other personal property. Other business that also suits you is profession requiring flexibility, speculation, aviation, insurance, custom and immigration, computers, researches and medicines. You are just one click away from getting your personal Career Report