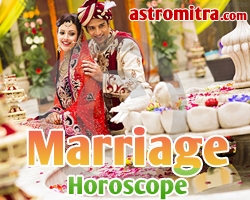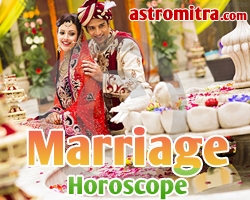 "Will I ever get married? When will I get married? How would be my wife or husband? Will I have a happy married life?" All these questions are very frequently asked by our visitors. Another question which we encounter very commonly is, Will I have a love or arranged marriage in my horoscope? These questions are asked by people of all age groups irrespective of gender. It is not so easy to answer these questions without proper understanding of astrological techniques. Luckily we have decoded the secret astrological language of our ancient sages to predict the timing of marriage astrologically in a methodical manner. We analyze your horoscope, which is based on birth date and time of birth, along with Navmamsa chart and also focus on ongoing Dasha-Bhukti and planetary transit to pin point timing of marriage and whether you will get love and arranged marriage. We do not answer these questions only, but we predict all the things related to your marriage and prospective husband or wife.
Finding Life Partner
Traditionally in India, finding an appropriate life partner for son or daughter was the paramount responsibility of parents. For some western people it could be awkward, but it is truth to a great extent. But in modern India, things are changing rapidly and girls and boys both are showing interest in love marriage rather than traditionally approved arranged marriage. In toady's scenario, young generation is taking the advantage of news papers, social sites, dating or matrimonial sites and even work places to find a suitable life partner. Fortunately astrology can predict the possible mode of finding the life partner.
The Importance of Birth Chart in Mariage
Not only in India, but across the world astrology has been used to predict important things related to marriage and relationship. However, Indians have great faith in astrology and before stepping out to find a bride or groom they like to get astrology predictions for marriage on the based of their horoscope to demonstrate when they will get married and what sort of partner they will have. A profound astrologer can predict all such things by analyzing placement of Venus in horoscope, position of 7th house and its lord, position of planets in Navmamsa chart and ongoing Dasha-Bhukti. Of course, to make a horoscope, astrologer needs accurate birth details i.e. birth date, birth month, birth year and time of birth. Don't forget to provide birth city and country along with above details.
Why should buy this prospects? 
We have a team of expert astrologers who have carried out several researches and have decoded the secrets of astrology which are used at the time of making marriage predictions. By the help of the rich astrological experience that they have gained after the hard work of years, they can predict timing of marriage, characteristics of your future partner, life after getting married, chances of divorce and lots more information. So this is an ultimate and worth buying marriage report for all the bachelors and married people as well.