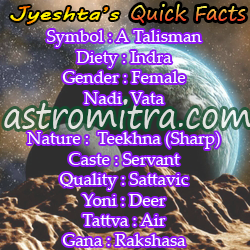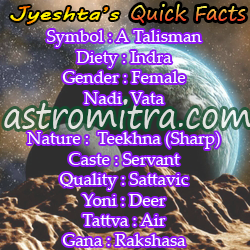 Jyeshta Nakshatra (also known as Kettai in Tamil and Thrikketta in Malayalam) is extended from 16.40 to 30.00 degrees in Scorpio sign. Mercury is the Dasha ruler of this birth star whereas its deity is Lord Indra. According to Indian mythology Indra is king of Gods. Jyeshta is the 18th among the 27 Nakshatras
Jyeshta Nakshatra Personality Traits
You have an elegant and dignified personality and are generally the reserved, soft spoken kind of a person. You like to be happy by nature and command respect for your views and opinions. You are often intelligent arid logical in your arguments. You are religious but not orthodox.
You are inclined towards reading, investigating and always discovering something new. You like to travel and are extremely fond of journeys. Women are good homemakers with homes most orderly in appearance. You are hard working but you get tired easily and always look for opportunities to relax and rejuvenate. Your digestive system is prone to regular trouble. So take care of your stomach and eat healthy. Your lucky gemstone is Emerald.
Compatible, Incompatible Nakshatras with Jyeshta
Compatible Nakshatras for the purpose of marriage, love and relationship are Krittika 2nd to 4th quarters, Magha, Vishakha 4th quarter, Vishakha 4th quarter and Anuradha. Your birth star is incompatible with Ashwini, Mrigasira 3rd and 4th quarters, Ardra, Punarvasu, Uttara Phalguni, Hasta, Swati, Mula, Poorvashada, Uttarashada 1st quarter, Satabhisha, Poorva Bhadrapada and Revati. All other rest of the birth stars is having compatibility with your birth star. Check out your manually prepared Matchmaking Analyis.You have also have an opportunity to get your personalized and accurate Marriage Prospects and Love Prospects. Go and Check Out what destiny has in store for you.
Suitable Career or Profession for Jyeshta Nakshatra
Since you are profound in managing men force and know how to get your work done through subordinates and team mates. Your unique communication skills help you a lot while dealing with influential people. The profession related to radio commentator, televisions anchor, talk show host, administrator, politician, bureaucrat and researcher suits you well. You are just one click away from getting your personal Career Report