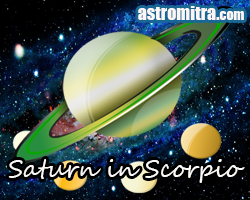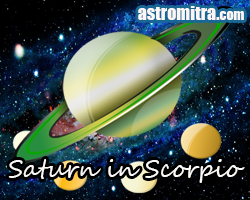 The planet of justice Saturn is transiting in Scorpio from November 02, 2014 and it will remain in this sign up to January 26, 2017. With Saturn in Scorpio, people born in Virgo have got rid of bad effects of Sade Sati.
Who are under the Sade Sati or Shani Dhaiya?
People born in Libra, Scorpio and Sagittarius moon signs are under the influence of Saturn's Sade Sati. Leo and Aries born natives are passing through the Saturn Dhaiya.
Those have their moon sign Taurus, Gemini, Cancer, Virgo, Capricorn, Aquarius and Pisces are free from the ill-effects of Sade Sati as well as Dhaiya. If you are one of those who are going through unfavorable transit of Saturn, you shouldn't worry about it, if Saturn is functional benefic planet for your ascendant, exalted, or placed in a house/sign that is amicable to it.
Well placed Saturn will give some auspicious events like, marriage, birth of children, promotion, victory in election and foreign travel. But, if Saturn is ill-placed (debility, combusted, indulged in planetary war or in inimical sign) in your horoscope, you might be witness of misfortune.
Here is Quick Summary, How Transting Saturn in Scorpio can Influence all 12 Zodiac Signs & Ascendants:
Aries - Mesha Rasi
:
If you are one of those who are born in Aries Moon sign or ascendant, simultaneously Saturn is in not favorably placed in birth chart, transiting Saturn in Scorpio from November 02, 2014 to January 26, 2017 can create challenges at various levels. Unexpected troubles can storm your health, career and personal life. Keep in mind prevention is better than cure. Avoid all the dubious and risky activities in order to mitigate horrifying effects of Saturn.
Taurus - Vrishabha Rashi
For people born in Taurus Moon sign or ascendant, from November 02, 2014 to January 26, 2017 Saturn is transiting in 7th house of long-term relationship, marriage and independent business. This house shows yours public image too. Not a good time for relationships. Differences of opinion will arise between couple, no matter how close you are to each other. So focus on your relationships and don't get disillusioned.
Gemini - Mithuna Rashi
If you are born in Gemini Moon or Ascendant, consider yourself lucky! As transiting Saturn in Scorpio is passing through 6th house, fortunately, Saturn feels comfortable in this particular house. So it's time to make the most the blessings that Saturn has bestowed upon you. Growth in career and excitement in personal life is expected.
Cancer – Karka Rashi
With Saturn transiting in 5th house of your birth chart, you are likely to experience mixed results. Understating towards occultism, exploration and some research work can improve astonishingly. Still your children are likely to suffer and have difficulties in their concerned fields. Studies can be hampered. Change in job is there on cards.
Leo – Simha Rashi
A tough time, from November 02, 2014 to January 26, 2017, is ahead for people born in Leo Moon or Ascendant. It's high time to come out of your comfort zone and do some serious work. The Saturn in Scorpio is knocking at your door to reward or punish for your Karma! So improve them before it gets too late. On domestic front, some disturbance is seen. Change in residence or purchasing new property is to be expected.
Virgo – Kanya Rashi
With transiting Saturn in Scorpio, you seem to enjoy the fruits of your hard work and inimitable skills that you possess. No scarcity of funds would be there, unless you are already debt ridden. This is the time when things will work in your favor and you can expect elevation in your position at work. You would be much comfortable than ever. For exact results, don't forget to correlate transit with planetary periods or Dasha.
Libra – Tula Rashi
A good time ahead for people born in Libra sign or ascendant. Transiting Saturn in Scorpio for is bound to bring prosperity and success for you. But somehow you wouldn't able to perform efficiently. If you can overcome indecisiveness, success and opulence will prevail surely. Laziness may dominate you. Relations with siblings and neighbors wouldn't remain up to mark.
Scorpio – Vrischika Rashi
You can expect a lack of peace, concentration and happiness. Change in residence is likely. Drive carefully as transiting Saturn in Scorpio makes you more prone to accidents and other mishaps. Slumps in career are possible. By and large financial situation is expected to remain moderated.
Sagittarius – Dhanu Rashi
Saturn in Scorpio is surely an adverse transit. Unexpected expenditures and financial losses can spoil your financial situation. Circumstances may force you to take some loan or debt. Relations with at least one of your friends or relatives can deteriorate. This is an okay period for career and married life.
Capricorn – Makara Rashi
Wow! What a great transit! If your ascendant or moon sign is Capricorn, surely transiting Saturn is going to be a boon for you. All your long awaited wishes can be fulfilled. Success would be yours, whatever you undertake. You are one of those lucky guys who are born with Saturn on their side. If by chance, you aren't passing through a favorable Dasha, Saturn wouldn't able to give encouraging results, as it should be.
Aquarius – Kumbha Rashi
After Capricorn, people born in Aquarius can also count themselves lucky! As transiting Saturn in Scorpio going through 10th house of career and social status, so you can expect to rise at work. Income can be increased. A good amount of reputation and fame would be enjoyed by you. But same can't be said for personal relationship. A few hiccups can cause differences between the two.
Pisces – Meena Rashi
You can face some tensions related to children, romance and education. But I can see a rise in your management skills. You will able to develop or learn something new this time. Career and finance wise, this is not a bad transit at all. But please spend wisely and this is not a time to speculate.
Read Less