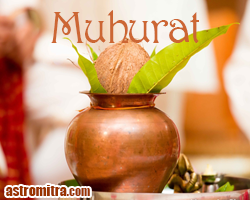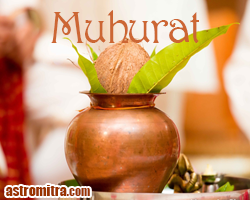 If you are looking for a good Muhurat for ring ceremony, marriage, grah pravesh, launching new business or reviving old one, child going first time school, surgery or signing important deal or agreement, long distance or short distance travel etc., we at Astromitra are happy to help you!
Muhurat is one of the important parts of predictive astrology. There are numerous methods to select an auspicious time, but Panchang is most famous and easy method to determine the strength of specific time of the day. In Panchang method, Tithi, Nakshtra, Vaar, Yoga and Karna are taken into consideration to decide a good Muhurat. 
As we all know that in Vedas or astrology. Muhurat means most auspicious time to start/perform/execute a task successfully without experiencing any hurdle. Muhurat can be used to select most benefic time for all types of activities ranging from mundan ceremony, marriage, interview, surgery and joining a new job etc.
If you believe in Karma Theory and Vedic astrology, you should also follow Vedic Muhurat system to minimize ill-effects of planetary position. If you will select an auspicious time or Muhurat to perform a specific work, chances of success would be very high. Most important, if you are planning to travel, you must get an auspicious date and time to departure and arrival. It will make you successful and traveling would be very profitable.