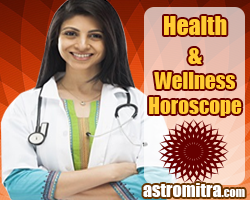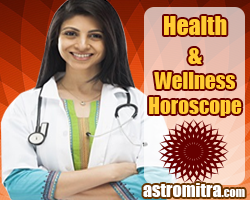 If you have any concerned about your health, wellness or interested in knowing what future holds for you? This health horoscope is for you since it's designed to cover almost all your health issues.
Astrology is best medium to understand all about the health and general well being. We will analyze your horoscope to give accurate astrology predictions with some effective astrological remedies to remove your problems.
In astrology affliction to Moon and Mercury can cause mental illness, hypertensions and even madness too, whereas connection of evil planets and houses with 4th house can cause accident. If someone wants to know possibilities of recovery, then astrologer needs to check placement of Jupiter, Lagna lord along with ongoing Dasha and Bhukti.
Astrology is no more occult science of the mysterious East in the hands of religious mystics but in modern science based on scientific facts and research. The astrologers have formulated certain astrological principles by constant countless horoscopes. Character, profession, fame, education, family life, health-in fact every phase of human life is interoperated more often than not, with surprising accuracy by experienced Vedic
Astrologers, the percentage of whose correct predictions matches favorably with that of correct diagnosis of an experienced physician or surgeon.
Health Astrology is a very important branch of this vital science which requires the rare combination of an astrologer and intuition power. Health astrology or astrology of disease is not a new subject. As a matter of fact our ancient astrologers dealt with this subject, some thousands of years ago. Diseases like mental aberration, hysteria, menstrual disorders, hydrocele, ascites, blindness, leprosy, gastric disease and rheumatism etcetera have been dealt with exhaustively. And yet there are thousands of diseases which require the attention of modern astrologers.
Now you can explore your health prospects very simply with the help of Indian Vedic astrology and our health Report.