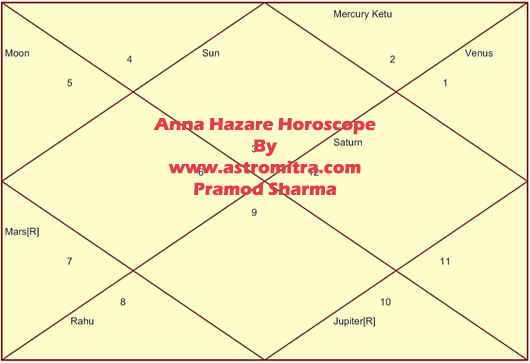 At the time of his birth Gemini Lagna was rising in eastern horizon. Mercury being the Lagna lord is in 12th house with Ketu. Posited Mercury in 12th house is aspected by noble Jupiter, Saturn and Mars. Influence of 6th lord Mars on Lagna lord Mercury indicates struggle and some controversies in life. But influence of Jupiter on Mercury makes him a religious and spiritual person.
Jupiter being the 10th lord is placed in 8th, while Saturn being the 8th lord is in 10th house. Thus this is an exchange between Jupiter and Saturn. Obviously mutual house exchange between 10th and 8th lord is not favorable where career is concerned. Due to such kind of combination one can not expect a smooth and bright career. However, exchange between Jupiter and Saturn is favorable for a social activist. Due to such planetary combination Anna thinks about the welfare of public, justice and law. This is the combination of Saturn and Jupiter only, which makes him so popular and great social reformer in the today's corrupt society.
Anna Hazare Education
Astrologically, 5th house and its lord play an important role where one's education is concerned. Mercury is the natural significator planet of education. As per horoscope Mr. Anna Hazare, 6th lord Mars is in 5th house and Mercury is placed in 12th house with Ketu. This is a not an encouraging planetary position for a good or higher education. That's why he could study upto 7th class only.
Anna Hazare Children
Mars being the most malefic planet for Gemini Lagna is placed in 5th house. Karaka of children, Jupiter is debility in 8th house and badly afflicted by Mars. In such situation, how he can expect children?
Anna Hazare Marriage
Jupiter being the 7th lord is placed in 8th house. 7th house is aspected by Saturn and Sun. the natural significator of Marriage Venus is also under the affliction. In a horoscope where Venus, 7th house and 7th lord are weak, person will remain unmarried throughout the life.
Movement against Corruption
Anna Hazare is fighting against the corruption from a long time. But he was not as famous as he is today. Right now he is passing through the Dasha of Saturn which is placed in 10th house, the house of dignity, fame and social status. And Bhukti of Venus which is in 11th house, the house of fulfill of desires, recognition and gains. Dasha of Saturn-Venus (5th and 9th lord) brought him in the limelight and he started a vital movement against corruption.