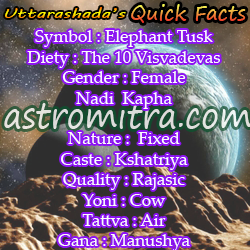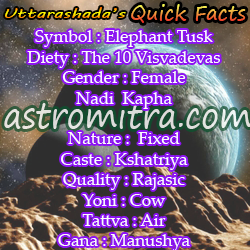 Uttarashada Nakshatra (also known as Uthiradam in Tamil and Uthradam in Malayalam) is extended from 26.40 degrees of Sagittarius to 10.00 Degrees of Capricorn. Visvadevas is deity of this birth star. He is son of Dharma and Goddess Vishva. Sun is the Dasha ruler of this birth star. Uttarashada is the 21st among the 27 Nakshatras
Uttarashada Nakshatra Personality Traits
You are a strong, courageous, kind hearted and a passionate person. Sometimes you act with utmost brilliance and at times you surprise others by your odd behavior. However you are intelligent, deep thinker, logical and scientific in your thought process. You are quite imaginative and assertive.
You turn out to be good researchers and often are pioneers of new ideas, new thoughts in whichever field you are.
You love outdoor life and sometimes also love to be alone all by yourself. Some times you are misunderstood and are subject to criticism from fellow office mates. But you tend to remain indifferent and joyous, as you are aware of your superiority. However this doesn't make you arrogant. You are intuitive and inspirational, make great friends and acquire good social status. Your lucky gemstone is Blue Sapphire.
Compatible, Incompatible Nakshatras with Uttarashada
Since you are born in Uttarashada Birth star, hence you are incompatible with people born in birth star Krittika, Ashlesha, Magha, Chitra, Vishakha, Moola, Uttarashada 1st quarter, Dhanishta 3rd and 4ht quarters and Satabhisha. You are compatible with rest of the birth stars. Check out your manually prepared Matchmaking Analyis.You have also have an opportunity to get your personalized and accurate Marriage Prospects and Love Prospects. Go and Check Out what destiny has in store for you.
Suitable Career or Profession for Uttarashada Nakshatra
Due to influence of your birth tar you have an edge of getting success as a lawyer, astrologer, priest, social worker, judge, consultant, management guru, financial advisor, intellectual, business executive, cricketer, hunter and ranger. If planets favor you in your natal chart, you can easily rise to a higher post at work and in society. You are just one click away from getting your personal Career Report