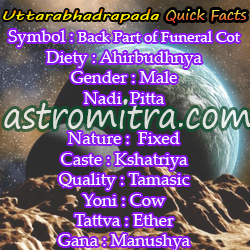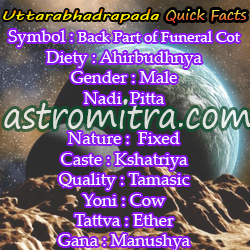 Uttara Bhadrapada (also known as Uthirattathi in Tamil and Uthrattathi in Malayalam) is spread from 03.20 to 16.40 degrees in Pisces sign. Saturn is Dasha ruler of this birth star and Ahirbudhnya – The serpent of the deep is the deity of it. Uttara Bhadrapada is the 26th among the 27 Nakshatras
Uttara Bhadrapada Nakshatra Personality Traits
You are known to have a steady personality, calm nature, low temper but you can also be extremely stubborn at times. Most of you are good looking, with good morals and modest personality. Many of you make great citizens as you are conscious of your duties. However many a times you tend to be lazy arid would work hard only if you wanted to. You are a pleasure loving person and like to admire beautiful things around you. You are extremely fond of socializing, especially in the company of the opposite sex.
You are fond of luxuries and good things in life, especially great food. However you tend to overeat many times. You are quite generous too and you always tend to have good relations with your brothers and sisters. Women of this sun sign make good housewives. You can be extremely passionate and equally jealous especially, in matters related to your love life. You are fond of music and art.
Compatible, Incompatible Nakshatras with Uttara Bhadrapada
You are incompatible with male, female born in Nakshatras like Bharani, Mrigasira, Pushya, Poorva Phalguni, Chitra, Vishakha, Anuradha, Dhanishta and Satabhisha. Probably might have good compatibility with rest of the Nakshatras. Check out your manually prepared Matchmaking Analyis.You have also have an opportunity to get your personalized and accurate Marriage Prospects and Love Prospects. Go and Check Out what destiny has in store for you.
Suitable Career or Profession for Uttara Bhadrapada Nakshatra
If the ruler of 10th house of your is well placed along with lord of Lagna, the profession related to therapy, yoga, meditation and occult science can bring good luck and fortunes for you. You are just one click away from getting your personal Career Report