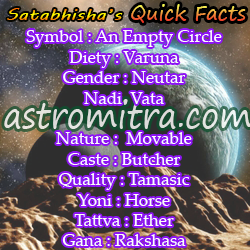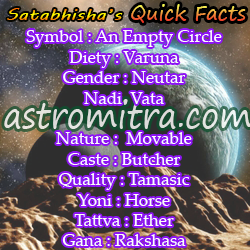 Satabhisha Nakshatra (also known as Chathayam/Sadayam in Tamil and Malayalam) is spread from 6.40 to 20.00 degrees in Aquarius. Rahu is the Dasha ruler of it whereas Varuna is deity of this star. Satabhisha is the 24th among the 27 Nakshatras
Satabhisha Nakshatra Personality Traits
Moon's placement in a birth chart decides your birth star. If you are born in Satabhisha Nakshatra, you are brave, courageous and truthful and you have inherent quality to endorse truth and justice. However you are interested in fighting and like to damage reputation and image of your rivals. You do not like to be a subordinate.
Independence is paramount for you. That's why you may not derive expected benefits from superiors and prestigious people in society. If you are in service sector, you will need to make adjustments according to circumstances; your rigid nature is not going to help you all the time.
Compatible, Incompatible Nakshatras with Satabhisha
Your birth Satabhisha has incompatibility with male, female born in Ashwini, Ardra, Punarvasu, Pushya, Ashlesha, Poorva Phalguni, Uttara Phalguni, Hasta, Jyeshta, Uttarashada 2nd 3rd and 4th quarters, Shravana, Poorva Bhadrapada 4th quarter and Revati. You are compatible with rest of the Nakshatras. Check out your manually prepared Matchmaking Analyis.You have also have an opportunity to get your personalized and accurate Marriage Prospects and Love Prospects. Go and Check Out what destiny has in store for you.
Suitable Career or Profession for Satabhisha Nakshatra
No wonder if I say you are jack of all trades. You shine in a profession where orthodox or out of box thinking, technique is required to accomplish the task. People born in this Nakshatra are suitable for career pertaining to space, astronomy, science, aircraft, radar technology, x-ray, photography, pharmaceutical industry, alcohol, drugs, waste-disposal and recycling. You are just one click away from getting your personal Career Report