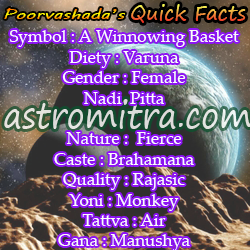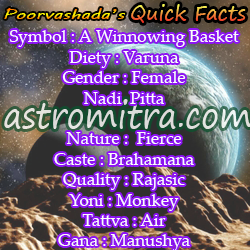 Poorvashada Nakshatra (also known as Pooradam in Tamil and Malayalam) is spread from 13.20 to 26.40 degrees in Sagittarius sign. Varuna is deity of this star and Venus is considered as a Dasha Ruler of it. Poorvashada is the 20th among the 27 Nakshatras
Poorvashada Nakshatra Personality Traits
You are frank, kind-hearted person, joyous, generous and extremely loyal. You cleverly perform your part of action and expect others to do their bit. You are a lovable person and are always ready to give a helping hand to others in times of difficulty. You are ambitious and are always surrounded by a set of close friends who help you whenever in crisis. You often tend to forgive those who hurt you and co-operate with them to achieve the objectives of the group.
You have a short temper, which can easily be aroused. Many times you act in a haste and can be arrogant in your actions and words, especially when angry. At times you lose your sense of proportion and balance. You should avoid taking important steps in life when angry. You are fond of physical exercises and sports. You make good lawyers or excel in areas, which require you to be active. You also have a good sense of humor. Your lucky gemstone is Yellow Sapphire.
Compatible, Incompatible Nakshatras with Poorvashada
Compatible Nakshatras for the purpose of marriage, love and relationship are Uttara Phalguni, 2nd, 3rd and 4th quarters, Uttarashada, Poorva Bhadrapada and Revati. You are incompatible with people born in Bharani, Krittika 2nd, 3rd and 4th quarters, Mrigasira 1st and 2nd quarters, Pushya, Ashlesha, Poorva Phalguni, Chitra, Vishakha 4th quarter, Anuradha, Jyeshta and Dhanishta. Check out your manually prepared Matchmaking Analyis.You have also have an opportunity to get your personalized and accurate Marriage Prospects and Love Prospects. Go and Check Out what destiny has in store for you.
Suitable Career or Profession for Poorvashada Nakshatra
People born in Poorvashada Nakshatra can perform well in aviation industry, shipping industry, entertainment field, host of talk show or television programmer, Herbalists, All professions associated with water and liquids in all its forms, Writers, debaters, travel industry. You are just one click away from getting your personal Career Report