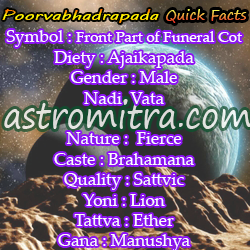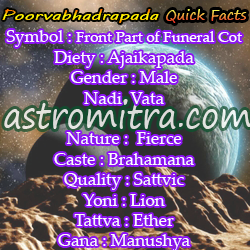 Poorva Bhadrapada Nakshatra (also known as Pooratathi in Tamil and Poorattadhi in Malayalam) is spread from 20.00 degrees of Aquarius to 03.20 degrees in Pisces sign. Jupiter is Dasha ruler of this birth star and Ajaikapada is the deity of this star. Poorva Bhadrapada is the 25th among the 27 Nakshatras
Poorva Bhadrapada Nakshatra Personality Traits
You are courageous, generous, independent and joyous by nature. You have a commanding attitude and sometimes you can be extremely arrogant. If offended, you could be vindictive and jealous. You get offended easily but you are equally quick to forgive, if you want. If someone arouses your anger then you generally turn tough. You have the power to influence other people and mold their opinions. You are mostly positive and clear in your view.
You love to be the center of attraction and sometimes you tend not to care of other's views. You can reach a stage where you don't care what the society thinks of you or your actions. You are fearless and like to do things your way. You are advised to do your own business as you may not like to work under someone. You are extremely different from the herd and can go to any extent for your love. Your lucky gemstone is yellow sapphire.
Compatible, Incompatible Nakshatras with Poorva Bhadrapada
Suitable career or professions are: Leather Industry, Environmental Activists, and Pharmaceutical Industry. Extreme Ascetics involved in self mortification (like the famous Agoras), Police Departments particularly Homicide Squads, Soldiers, Metal Industry, All professions involving the use of fire and high temperatures, Those who deal with toxic substances and highly polluting waste products, Enemies of the environment like Lumberjacks. Check out your manually prepared Matchmaking Analyis.You have also have an opportunity to get your personalized and accurate Marriage Prospects and Love Prospects. Go and Check Out what destiny has in store for you.
Suitable Career or Profession for Poorva Bhadrapada Nakshatra
No wonder if I say you are jack of all trades. You shine in a profession where orthodox or out of box thinking, technique is required to accomplish the task. People born in this Nakshatra are suitable for career pertaining to space, astronomy, science, aircraft, radar technology, x-ray, photography, pharmaceutical industry, alcohol, drugs, waste-disposal and recycling. You are just one click away from getting your personal Career Report