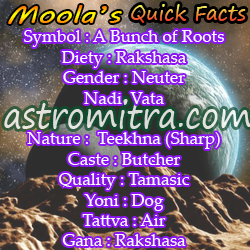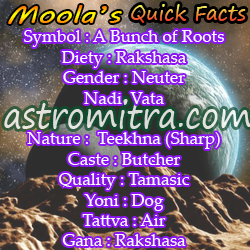 Moola Nakshatra (also known as Moolam in Tamil and Malayalam) is spread from 0.00 degrees to 13.20 degrees in Sagittarius sign. Rakshasa – The demon is the deity of this birth star. Ketu is known as a Dasha ruler of it. It means that at the time of your birth Ketu Dasha was in operation. Span of Dasha depends on the degrees of Moon in a horoscope. Moola is the 19th among the 27 Nakshatras
Moola Nakshatra Personality Traits
You are strong, bold, aggressive, determined, a bit selfish and jealous and vindictive with opponents. Overall you are a strong hearted person, great planners and ambitious. You have endurance and the power to sustain. With will power and determination, you can sail through the tough times. It is difficult to obstruct your path of success. You are passionate and possessive of your lover or life partner. You often have a set of friends and associates whom you don't openly acknowledge. You are interested in occult sciences. Profession wise, you turn out to be good surgeons, researchers, chemists or planners.
You always put in a lot of hard work to accomplish your desires. Sometimes you are misunderstood and you often tend to clarify your stand just once, post which you don't care what others think as you set out to do things the way you like. Your lucky gemstone is coral.
Compatible, Incompatible Nakshatras with Moola
Incompatible Nakshatras for the purpose of marriage, love and relationship are Ashwini, Rohini, Mrigasira 1st and 2nd quarters, Ardra, Punarvasu, Pushya, Uttara Phalguni, Hasta, Anuradha, Jyeshta, Uttarashada 2nd, 3rd and 4th quarters, Shravana and Poorva Bhadrapada. Rest of the Nakshatras are compatible. Check out your manually prepared Matchmaking Analyis.You have also have an opportunity to get your personalized and accurate Marriage Prospects and Love Prospects. Go and Check Out what destiny has in store for you.
Suitable Career or Profession for Moola Nakshatra
You can turn into one of the best healers, doctors and other such people who administer poisons, shots and vaccines. You can also become a profound aghori, tantrik, musician, police officer, astronomer, black magician, preparing and selling herbs and astrologer. You are just one click away from getting your personal Career Report