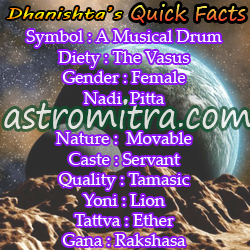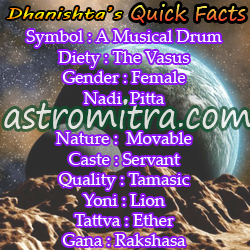 Dhanishta Nakshatra (also known as Avittam in Tamil and Malayalam) is extended from 23.20 degrees of Capricorn to 06.40 degrees of Aquarius sign. Mars is the Dasha ruler and one of Vasus is deity of this birth star. Dhanishta is the 23rd among the 27 Nakshatras
Dhanishta Nakshatra Personality Traits
You are brainy, intelligent, charming and happy go lucky person. You don't like to poke your nose in other people's business or life and you expect the same from others. If things flare up, you like to quietly walk away from there, as you generally like to stay away from all forms of disputes. You are kind hearted, impulsive and hasty in thoughts and action.
You have a pleasing tone and voice and are extremely affectionate towards people you love. You often go by your emotions, your own feelings and instincts rather than by reason. You are some what secretive & selfish at times. However you are extremely romantic and you look very attractive to the opposite sex. You often spend extravagantly as you are fond of luxuries of life, especially clothes.
You appear to be frank and open, even though you are always secretive and you don't reveal your real motives. You always make up good, convincing reasons for your actions. You often indulge in moral and social activities and believe in being honest in business. You are fond of dance, entertainment, music and stage. Most of you are well educated and are also fond of teaching. Your lucky gemstones are Diamond and Zircon.
Compatible, Incompatible Nakshatras with Dhanishta
Male, female born in Dhanishta are compatible with people born in Krittika 2nd, 3rd and 4th quarters, Mula and Satabhisha. You are incompatible with male, female born in Bharani, Mrigasira, Punarvasu 4th quarter, Pushya, Ashlesha, Poorva Phalguni, Uttara Phalguni, Hasta, Chitra, Anuradha, Poorvashada, Uttarashada 2nd, 3rd and 4th quarters, Shravana, Dhanishta 1st and 2nd quarters, Poorva Bhadrapada 4th quarter, Uttara Bhadrapada and Revati. Your Nakshatra Dhanishta is moderately compatible with rest of the Nakshatras. Check out your manually prepared Matchmaking Analyis.You have also have an opportunity to get your personalized and accurate Marriage Prospects and Love Prospects. Go and Check Out what destiny has in store for you.
Suitable Career or Profession for Dhanishta Nakshatra
People born in Dhanishta birth star have so many career options. We have listed some of them here. Probably you can do well as a musicians, dancers and performer. Chances of getting success in entertainment and music industry are good. The profession related to holistic healing, making music instruments, selling gemstones, financial consultancy can also bring good name and fame for you. You are just one click away from getting your personal Career Report