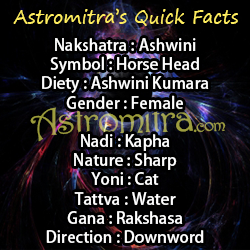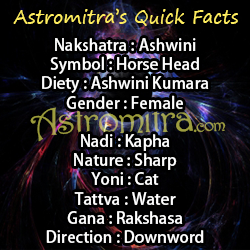 If your birth star is Ashwini (also knonw as Aswini in Tamil and Aswathi in Malayalam), it means that your Moon is placed in Aries sign from 0 degree to 13.20- degree. This star is ruled by Ketu, who is a mysteries planet. Ashwini is the 1st Nakshatra among the 27 Nakshatras.
Ashwini Nakshatra Personality Traits
Usually, people born under the Ashwini Birth Star are said to be beautiful, have good communication skills, tolerant, fortunate, clever and attracted towards gold and silver ornaments. They love to wear different kinds of fancy and contemporary beads, bracelets etc. Your most visible qualities include your confidence, activeness, ambition and pride. At the same time you are highly determined, bold, courageous and some times dominating.
You are quite passionate about your relationships, maybe a little bit over possessive too. You are surrounded by thoughts running ahead of your words and you do take unnecessary mental worry and anxiety at times. Since you are under the influence of Ketu's Nakshatra Ashwini and Mars's sign Aries, Astromitra finds your speech is sharp and many times you appear as if you are scolding others. Like Mars and Ketu you want to be independent and wish to provide support to those around you. You often turn out to be a good executive and you do your work with utmost dedication. You could be swayed and easily flattered. Your lucky gemstone is coral.
Compatible, Incompatible Nakshatras with Ashwini
When it comes to romantic or marriage compatibility or even business partner compatibility, male, female born in Ashwini Nakshatra are most compatible with male, female born in Bharani, Pushya and Swati Nakshatra. You are incompatible with people born in Poorva Phalguni, Hasta, Chitra (1st and 2nd quarters or Padas), Vishakha (4th quarter or pada), Jyeshta, Mula, Satabhisha and Purva Bhadrapada. With other rest of Nakshatras or Birth stars you are moderately compatible. Want to get compatibility analysis based on your birth date along with your partner? Wish is granted! Check out your manually prepared Matchmaking Analyis
Ashwini Nakshatra Marriage, Love & Family
People born under the Ashwini birth star are likely to experience some sort of torment in married and personal life. Relations with husband, wife or lover may not go as smooth as desired or expected. You have also have an opportunity to get your personalized and accurate Marriage Prospects and Love Prospects. Go and Check Out what destiny has in store for you.
Suitable Career or Profession for Ashwini Nakshatra
If you are a person born under the Ashwini Nakshatra, it doesn't matter whether you are male or female; you can do well as a doctor, nurse, therapists, psychologist, army, police, fitness trainer and healer. You can also do well as a musician, merchant, horse trainer and sportsman. You are just one click away from getting your personal Career Report