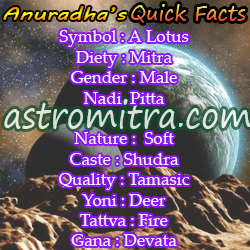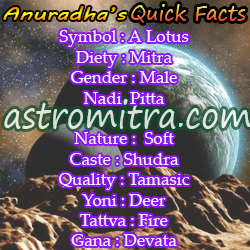 Anuradha Nakshatra (also known as Anusham in Tamil and Anizham in Malayalam) is spread from 3.20 to 16.40 in Scorpio sign. Basically Saturn is the Dasha ruler of it and Mitra is deity of it. Mitra means friend. Anuradha is the 17th among the 27 Nakshatras
Anuradha Nakshatra Personality Traits
You are ambitious, hard working, honest and truthful. Even if you have to lie, it becomes obvious and can be easily caught. Generally you carve out great careers for yourself. You are generally very active but when you set out to relax you don't want anyone to disturb you. You are self confident, opinionated and don't hesitate to show your likes & dislikes openly.
You are devoted to your life partner and like to spend as much quality time with your children as possible. You are fond of music, are religious and romantic at heart. At times you enter into arguments with acquaintances while explaining your point of view. You are generally a hard-headed businessman and also make good accountants. You tend to have a vision for everything around you and you end up doing things your way. Your lucky gemstone is Blue Sapphire.
Compatible, Incompatible Nakshatras with Anuradha
Your birth shows some difficulties in married life. So you should carefully select your life partner. Since your birth star is Anuradha, you are most compatible with male, female born in Rohini, Uttara Phalguni, Chitra 1st and 2nd quarters and Jyeshta. You are incompatible with Bharani, Mrigasira 3rd and 4th quarters, Pushya, Chitra 3rd and 4th quarters, Anuradha 1st to 3rd quarters, Moola, Poorvashada, Dhanishta and Uttara Bhadrapada. Rest of the Nakshatra is moderately compatible with you. Check out your manually prepared Matchmaking Analyis.You have also have an opportunity to get your personalized and accurate Marriage Prospects and Love Prospects. Go and Check Out what destiny has in store for you.
Suitable Career or Profession for Anuradha Nakshatra
Your Nakshatra is ruled by Saturn and Mitra is the deity of it, hence job or business related to mining, exploring, transpiration, iron & steel suits you well. You can also perform exceptionally well as criminal lawyer, psychologist, scientist, counselor, numerologist, statistician, photographer and visual, graphic designer. You are just one click away from getting your personal Career Report